Teeth Whitening
Professional Teeth Whitening At Our Dental Practice
Most dental practices offer an in-office professional whitening procedure. At Peoples Dental Clinic, we utilize the Best Teeth Whitening system. This procedure involves the professional application of a very strong whitening agent and produces results almost immediately. In-office whitening typically produces the most dramatic results, whitening your teeth up to 8 shades in a single application.
It is safe and all at affordable prices.
Teeth Whitening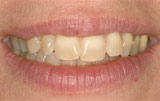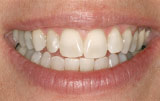 Dentistry by Peoples Dental Clinic
Whiter, brighter, lighter. If you like everything about your teeth except the color, whitening by bleaching may be the solution for you. A professional "in-office" dental procedure offers the advantage of being quicker and more predictable. Whereas an "at-home" kit may brighten your smile by several shades, but requires more time. Both are safe, effective and reasonable!
Length of Procedure — usually 60 minutes in-office while at-home whitening requires 30 min/day for several weeks until shade is achieved (2 weeks min.)
Number of Visits — 1 or 2 depending on amount of whitening needed
Anesthesia — none
Duration of Results — depending on your individual situation regarding variables such as diet, tobacco use, wine consumption, and original tooth color
Recovery time — none
Risks — Safe